TULP inspiration
Dec 19
Tumblr -> Pinterest
Dear follower or reader,
I started using Pinterest instead of Tumblr to collect the images that inspire me. Although Tumblr has worked very well for me, I now think that Pinterest is a better match for what I want to achieve.

So, thank you again for following my Tumblr blog. Please visit, and follow my Pinterest boards now:
http://pinterest.com/janwillemtulp/
Thank you!
Jan Willem Tulp
Nov 06
Energy Flow is a non-linear film experience that explores the physical, social and spiritual tensions in our world.
Translating real-life events and processes into digital paintings in motion, Energy Flow weaves multiple story lines into an immersive, audio-visual experience that is unique every time it is played.
Created by digital art studio FIELD with support from The Creators Project, Energy Flow launches on iOS and Android in December 2012.
Oct 31
Flickr: subblue's Photostream -
Check out the fantastic collections of generative art by Subblue (Tom Beddard), including a WebGL based renderer.
Oct 29
Microscopix was the winning demo entry at the TRSAC 2012 demo party held in Arhus, Denmark at the end of October 2012. Created by the recently re-formed group Litewerx  it's a lovely combination of WebGL powered visuals smoothly synced to an ambient soundtrack. The scenes flow from what look like DNA strands, to blood cells to beautifully lit organisms, all supporting the 'microscopic' name. It's short but well sequenced and relaxing to watch.
The demo launcher allows you to configure how you watch it, but it still needs a relatively decent spec machine to run. And as is usual for demos you really need to use Chrome or Firefox for performance.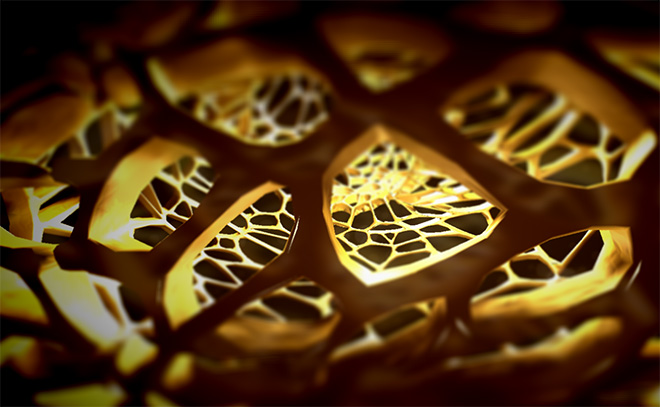 The Creation Of The Universe Depicted On A London Hotel | The Creators Project -
Parisian film and motion design studio Fink is teaming up with projection mapping group Blow Factory to bring the story of the universe's creation to life on the facade of a London hotel. Told through graphic design and animations designed by Fink, ME hotel will change its look daily with the help of images and animations. Once a day, an eight-minute mapping show will transform the building to take passersby on a journey to the beginning of time.
Oct 27
Andy Gilmore has been creating a steady flow of colorful patterns. Check his site for more!
Oct 22
UA Study Examines How News Spreads on Twitter | UANews -
A study of the Twitter activity of 12 major news agencies shows varying levels of success for the social network as a news-sharing tool, based on factors like article lifespan and number of retweets.
Nearly every major news organization has a Twitter account these days, but just how effective is the microblogging website at spreading news? That's the question University of Arizona professor Sudha Ram set out to answer in a recent study of a dozen major news organizations that use the social media website as one tool for sharing their content.
Oct 16
Over the Decades, How States Have Shifted - Interactive Feature - NYTimes.com -
Recent elections have placed a heavy emphasis on "swing states" — Ohio, Florida, and a handful of other states most-easily swayed from one party to the other. Yet in the past, many more states shifted between the Democratic and Republican parties. A look at how the states stack up in the current FiveThirtyEight forecast and how they have shifted over past elections.
Oct 15
Oct 13
I didn't have one. Not really. Like most of my demos I start out with some notion of what I want, or if something inspires me it'll spark some idea. In this case I was watching through Robert Hodgin's EYEO talk and the demos he did. I ended up wanting to recreate the Cornell box that he had, though in WebGL rather than OpenGL, but beyond that I didn't have much else. But then microphone access landed in Chrome Canary…